SAFE-FS Investment Goals
Project cost projections and funding benchmarks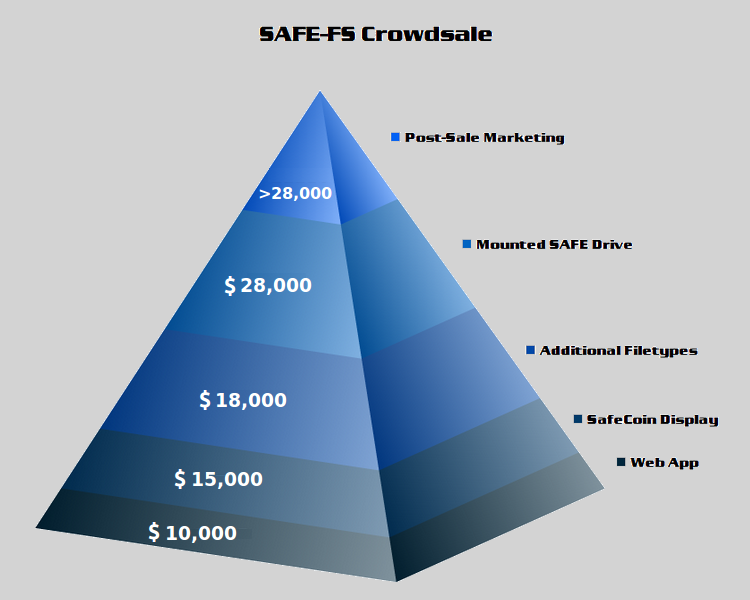 Cost Estimates for Project Deliverables
In its most basic form, SAFE-FS was planned as a SAFE Web App, where users can manage, upload and search through their own and others' public files. However, since higher funding levels were reached, SAFE-FS can grow into something much more, and offer much richer functionality, including SafeCoin displays integrated with wallets, mounted SAFE drives, and other ways to interact with your perpetual data.
We have gathered an amazing contact list of developers through our efforts with the SafeAppStore, and have kept that list close when organizing this SAFE App. Therefore, we are able to get much out of our developers while being very efficient with our resources. This has helped us plan and estimate costs for SAFE-FS.
Since well over our highest amount was achieved, these funds can go directly towards maximizing our international partnership efforts, to bring the SAFE-FS platform to the world. We have funds for multiple presenters, proper video equipment for broadcasting presentations online, and more to expand our project.
In its simplest form, SAFE-FS will be your portal to your files on SAFE, and the medium will be a cross-platform Web App. The concept design has been released and is live here.
We hope we are able to work on the deeper features we envision for this project, and have had very exciting discussions with potential developers on what could be done in these areas.
Extra Funding boosts Marketing
If all funding levels are met and exceeded, the excess funds can enable us to multiply our marketing efforts and accellerate development.